This article is part of the LinkedIn Hiring Feature Guide. Read our related articles on LinkedIn Hiring Badge,, and Sharing Hiring Posts.
Hiring on LinkedIn
If you are a recruiter or HR manager, you probably already consider LinkedIn as your go-to recruitment platform.
Fortunately, LinkedIn has many features to help you get suitable candidates for the jobs you are searching for.
How can you do that?
Hiring on LinkedIn has never been simpler since they introduced a new feature. This allows you to add a frame to your profile picture that announces that you are hiring.
What are the benefits?
There are multiple benefits to using this new functionality. You reach more people, and searching after #OpenToWork profiles can increase your database of potential employees.
What is the LinkedIn Hiring Feature?
The LinkedIn Hiring Feature has a simple idea behind: it allows you to announce directly from your profile that you're hiring.
How to Write a Hiring Post on LinkedIn
However, just using these functionalities is not enough. You have to write a hiring post that converts into applicants and potential employees for your business.
Let's look at the most important elements of a successful hiring post.
Captions
When writing a job post, you should consider the caption. Some of the principles that you can follow:
Be concise

Balance the easygoing tone with professionalism

Write the exact benefits

Define the expectations
Here are some examples of catchy captions. Beware of adapting them based on your culture and add job details following the principles we talked about above.
Come as you are

Just bring your passion

Join a team of changemakers

Join a team that values you for who you are
Hashtags
Hashtags are another great tool for recruitment. By using them, you can increase the visibility of your job opening.
Some of the hashtags that you can use when posting a job:
#humanresources

#hr

#jobalert

#recruiting

#jobopening

#jobsearch

#jobseekers

#workingathome

#hire

#gethired

#hiringandpromotion
Sharing
Another great tool to increase visibility is sharing the open role within the network. Also, you can ask your colleagues to do the same. This way you can reach multiple networks.
Best Examples of Hiring Posts on LinkedIn
Let's look at some companies that nail their hiring posts.
Ulta Beauty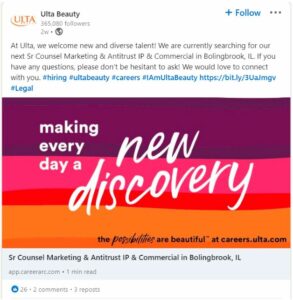 Ultra has done a great job showcasing its employer brand and company values.
Cellular Sales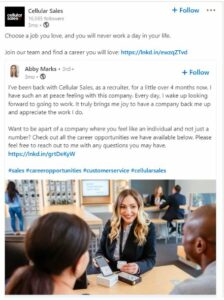 They are a great example of how to use your own employee story to promote the available job openings. This increases credibility and brings transparency to your potential candidates.
United Pacific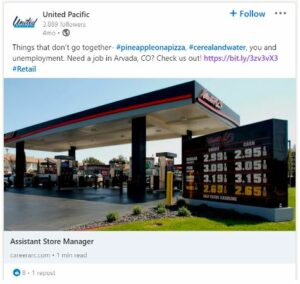 This is another great example of keeping things easy and adding a personal touch to a job opening.
CVS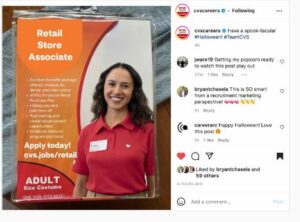 CVS is a great example on how to jump on Social trends and turn them into a hiring opportunity.
H&R Block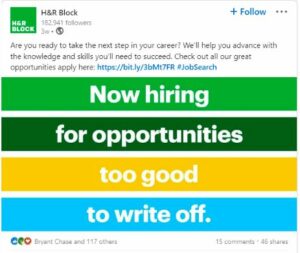 They are a great example of how to market when you have multiple positions and roles to fill.
Share with us what other catchy captions and creative job posts you have seen around.
LinkedIn Hiring Posts FAQ
What do you write when sharing a job posting?
When writing a job posting, it is important to share details such as title, experience, location, requirements, or benefits.
Can I post a job posting on LinkedIn for free?
Yes, you can post a job on LinkedIn for free. You also have the promoted job option if you want to increase its visibility.
How do you announce a job posting on LinkedIn?
You can announce a new job post by using the #HIRING option, hashtags, and sharing in your network.