Welcome to the new age of LinkMatch! If you're reading this, you might have already noticed some remarkable changes to our website and domain.
From a visual redesign to enhanced functionality, we have left no stone unturned to make your experience with us nothing short of extraordinary.
Let's dive into what's new, and how these transformations are going to make your LinkMatch experience smoother, faster, and more delightful.
New Domain Name – linkmatch.net to linkmatch.com
Why the Change?
Sometimes, a small change can make a big difference. Moving from linkmatch.net to linkmatch.com is more than just a minor tweak; it's a leap toward a brighter future.
Our new domain, linkmatch.com, represents our brand's evolution and growing prominence in the market. It signals increased credibility and an easier recall for our users. Trust us, we did our homework on this one!
Seamless Transition for Customers
Worried about getting lost in the shuffle? Don't be! All existing customers will be redirected to the new domain without lifting a finger. We believe in smooth sailing, and this transition embodies that philosophy.
A Fresh New Look – Website Redesign
Modern Aesthetics, User-Friendly Navigation
A facelift was long overdue, and boy, have we delivered! Our website now boasts a modern, user-friendly, and visually pleasing design. Think of it as moving from a comfortable old chair into a sleek, ergonomic masterpiece.
Before, you may have found yourself clicking around to find what you need. Now, navigation is intuitive, information is accessible, and the experience? Simply splendid.
Enhanced Features and Information
A Better User Experience (UX)
The design wasn't just about aesthetics; we aimed for functionality too. For instance, related entities like Deals or Activities of a contact or company are now accessible in separate tabs. Imagine having everything you need at your fingertips, neatly organized. That's the new LinkMatch for you.
Embrace the Dark Side
That's right; we've added a dark theme. Whether you're a night owl or just prefer the subdued elegance, the choice is yours. This new theme isn't just about aesthetics; it's about comfort and personalization.
We understand that prolonged exposure to bright screens can strain the eyes, especially during late hours. By introducing the dark theme, we're giving you the power to tailor the visual experience to suit your needs and preferences.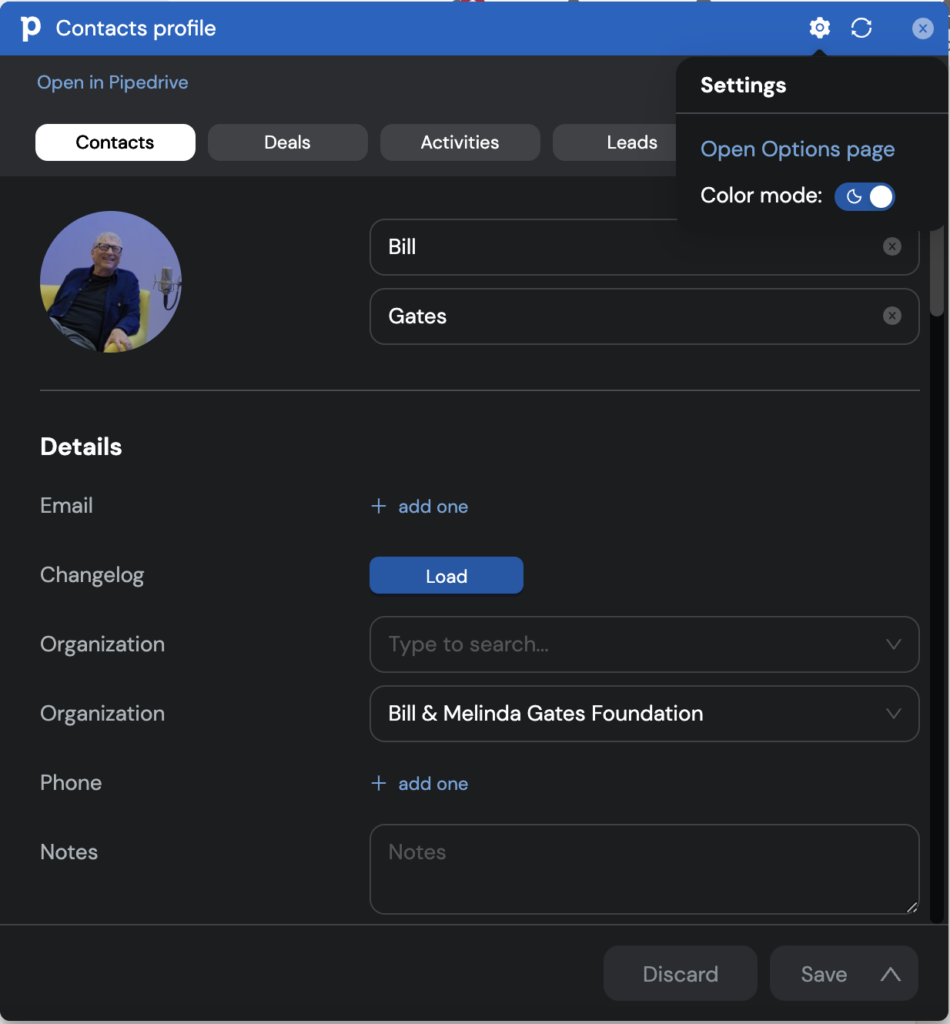 Performance Upgrades
LinkMatch now works significantly faster. Our team went under the hood, tinkered, and supercharged the performance.
The result? Speed like you've never experienced before. But what does this mean in practical terms? It means less waiting and more doing. Whether you're managing contacts, organizing deals, or any other task within our system, you'll notice that everything is snappier.
We've optimized loading times, streamlined processes, and cut down on any unnecessary lag. This isn't just an upgrade; it's a promise to respect your time and make every second with LinkMatch count.
The Team Behind the Transformation
Meet the Creative Force: Nixtio
When it came to redesigning our platform, we knew we needed the best in the business. Meet Nixtio, the creative brain and artistic force behind our transformation. Their commitment, creativity, and relentless effort have shaped an exceptional user experience that embodies our values and mission.
In fact, Nixtio now has a special offer for LinkMatch customers. Don't miss your chance, request more details here.
A Collaborative Journey
This transformation was not just a project; it was a collaborative journey filled with brainstorming sessions, iterative designs, and numerous cups of coffee. Their approach went beyond mere aesthetics; they delved into understanding our ethos, our users' needs, and the market trends.
Innovating with Technology
Utilizing cutting-edge technology and modern design principles, Nixtio has sculpted a website that's not only beautiful but also highly functional. Their expertise in responsive design ensures that our platform looks stunning and works seamlessly across different devices and browsers.
Future Roadmap
Building Upon Success
The transformation of LinkMatch.com isn't just a one-time event; it's a stepping stone in our ongoing journey to provide unparalleled value to our users. Our future roadmap isn't merely a list of upcoming features; it's a vision of where we want to take LinkMatch and how we plan to continuously innovate and evolve.
Exciting Features on the Horizon
Our users are at the heart of our plans, and we're committed to delivering features that will revolutionize the way you work:
Built-in Email and Phone Finder: No more manual searching for contact information. We're integrating tools that will find emails and phone numbers for LinkedIn profiles as you add them to your CRM. This feature aims to save you time and make your networking more efficient.
AI-Powered Capabilities: Artificial Intelligence is no longer a buzzword; it's a reality. With features like auto-ranking and tags assignment, we're leveraging AI to make your decision-making process smarter and more intuitive.
Enterprise Plan Enhancements: Bulk parsing, complete contacts auto-sync, automated workflows – our upcoming Enterprise plan is designed for power users. We've paid attention to every detail to ensure that this plan offers unmatched scalability, efficiency, and customization.
Emphasizing User Feedback
Your feedback and suggestions have been invaluable in shaping our current transformation, and they will continue to guide our future direction. We believe in a community-driven approach where your ideas and insights play a critical role in our development process.
Conclusion: A New Chapter Begins
The unveiling of our new domain, redesigned website, and enhanced features mark the beginning of an exciting new chapter in the LinkMatch story. But it's a chapter that we haven't penned alone. Your feedback, loyalty, and trust have been the ink that has shaped this transformation.
Whether it's the dark theme you switch on for late-night work or the speed that makes your daily tasks a breeze, every facet of this transformation is a reflection of our understanding of your needs, challenges, and aspirations.
We invite you to explore LinkMatch.com, engage with its new features, and grow with us as we continue our journey toward excellence. This transformation is not an endpoint; it's a milestone in an ongoing journey.